Love at First Bite
A declaration of love for the pinnacle of Mexican cuisine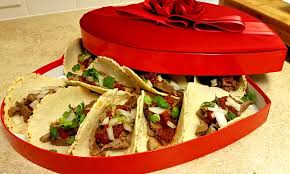 Hang on for a minute...we're trying to find some more stories you might like.
Many people consider one's first love to be fleeting.  Often times, it is just that–a temporary infatuation that disappears with maturity.  However, in some rare circumstances, we come across exceptions.  I believe I have been graced with one of those exceptions.  From a young age until now, tacos have remained the love of my life.
Yes, I said tacos.
Most people would not understand my love for them, but their impact on my life is undeniable. I would project that approximately 73 percent of my body fat is derived from them. But what makes the taco special? Is it the tortilla, the meat/seafood, or the condiments? It is the perfect combination of at least two of those three.
With a taco, you cannot go wrong by choosing corn or flour tortilla. Personally, I think the corn tortilla complements steak (asada), chicken (pollo), marinated pork (pastor), ground beef (picadillo), or Mexican sausage (chorizo). Flour tortillas harmonize with fish, shrimp, veggie, or avocado tacos. Some health freaks even use lettuce as their tortilla. However there is a real game changer that I have discovered when it comes to the tortilla: the double corn tortilla. A local joint called Juquilita Tacos–basically heaven on earth–serves their meat tacos with double corn tortillas. If there were a Nobel Prize for tacos, I'd nominate the chef over at Juquilita Tacos.
The protein on the taco is the powerhouse; it can make or break the taco. The meat, seafood, and other toppings I adored above are the more common focal points of the tacos. Some taco consumers might put beef tongue, pork skin, and many other unique ingredients. But picking your protein is only half the battle. Most of the meats above can come prepared in many different forms. For example, if I was ordering fish tacos, I might have the option of getting the fish blackened, fried, or grilled. When answering this life-or-death type of question, I usually take one of two paths. First, if I have been to the restaurant before, I will pick their featured option.  However, if the restaurant is a new endeavor, I would consult the waitress.  The worst response someone can make is to panic. I recently witnessed this as I saw my grandpa order fish tacos at a new restaurant while on vacation. He simply responded to the waitress' question of blacked, fried or grilled with a "yes."  My entire family was laughing, concerned, and in shock. Yes, choosing how your taco is made can be a life-altering decision, but we all have to start somewhere.
Condiments can best be described as the American Gilded Age. On the outside, they can be seen as beautiful decorations which help to compliment the natural beauty of the taco. However, they can do insidious harm to your insides when devoured. A few of the more popular taco toppings include cheese, lettuce, salsa (of many different kinds), tomatoes, guacamole, jalapeno, onion, cilantro, corn, mango, pineapple, and countless more. Proper care and attention must be made when choosing your flavors, as the wrong choice can cause deep regret in the near future.
With all the myriad ways to create a taco, people often wonder which one will make the most tasty and delectable combination.  My personal choice is the double corn tortilla with steak. The condiment selection then is a reflection of how I am feeling on that particular day. I will either go plain, just cheese, just guacamole, or pineapple/mango with salsa verde (green sweeter salsa). Of course, I would get this at Juquilita Tacos. If one is looking to go with fish tacos, Bien Trucha is the place to be. Their fried fish along with homemade cabbage slaw is unbeatable. Overall, I would recommend to scrap the idea of the "ideal body" and just enjoy your fill of tacos. They truly are God's gift to humanity.