The Upward Arc
The 2017-2018 Marmion Cadets basketball team is still developing, but under Coach Young, there is reason to be optimistic.
The foundation for this year's Marmion basketball team has been laid as first year Marmion basketball coach Tony Young sets the groundwork for growth and success. He has high hopes for this year and is working to establish a strong rapport in his players.
Coach Young has infused his tough personality into the players and is creating an identity based on defense and aggressiveness.
"[I'm] making sure [the players] can compete all the time and play hard all the time. I bring a different level of intensity and they're gonna have to match it."
The Cadets' first test came when they opened the season in the Batavia Windmill Classic. They claimed their first win of the year against the Kaneland Knights by a score of 68-52. However, they later ran into powerhouse Batavia and fell to the Bulldogs 70-54.
After the game, Coach Young said his players "took a step backwards;" however, he knows struggles are a part of the process.
"When I say going backwards I mean we just worked on a lot of different things, so when you work on certain things and you practice certain things, there's a confidence piece before you can actually put that into the game. We're still learning."
And just like Coach Young, the players are still learning how to mesh and succeed on the court. The Cadets are going to be facing adversity as they develop as a team, and have already been dealt early losses that could potentially dampen morale, but Coach Young is optimistic.
"Nobody's discouraged at all. We understand it's new to everybody; I'm new, the stuff we're learning is new, new schemes, plays, defense; it's [early] in the season."
Because it is still early in the year, the players are still working to solidify their roles and Coach Young emphasizes that everyone is playing well. He is focused on being team-oriented rather than recognizing one player as being most important.
"Everybody's been playing well. Mick's [Sullivan] had some big games for us, John Reid's had some big games for us, Tommy [Surges] has done some very good things, made plays."
In addition to these three starting scorers, he recognizes senior Ryan Fletcher as the "heart of the team."
"Man that kid just plays super hard and I think if we could get more guys to do the stuff he does, it would be awesome."
Using these players as comparisons for the rest of the team, Coach Young believes the development in the relationship between teammates is far more important than individual accolades.
"We've been growing as a team. People harp a lot on individual accolades but I look at it as a team. If everyone does their job, we'll be sitting here talking about how good everybody is."
A crucial aspect of the growth of teammates is learning to play as one unit. The team wants to play tough against big programs like Wheaton-Warrenville South who dealt the Cadets a 65-40 loss on November 20.
Now, the Cadets' goal is to close that gap, and to do that, Coach Young knows he will need all of his players to buy in.
"[Competing] is the plan, that's what we're doing all of this work for. That's gonna be determined by what [the players] want to do. If they lock in and decide we want to compete against these big teams, then we'll have that opportunity."
The players showed their competiveness in big games last week against ACC.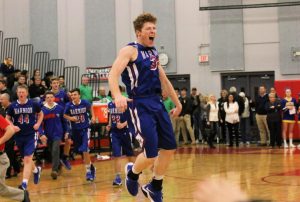 After the excitement of Mick Sullivan's game winning dunk to claim a thrilling 62-60 win over their arch rivals, the season is now rocking in full swing.
Coach Young was happy with how his players performed, especially because they rose to the challenge of a close game.
"Those are the games that are fun. Winning close games shows you can win close games. Our guys played their butts off, they did everything to give the game away and did everything to get the game back."
But once he and the Cadets secured the victory, he knew focus must shift to the next week of games.
"Let's get ready for tomorrow. We should always celebrate and enjoy victories, but you never wanna get overzealous, or too excited. I don't want our guys to get satisfied."
Looking ahead, Coach Young is trying to use each game as a building block to assemble success in the state tournament.
"We just gotta continue to get better and better. We can't build on shaky ground, we're trying to lay the foundation for these guys."
Let the construction continue.