Internet, Do You Love Me?
How The 1975 targets the Internet and society in their latest and greatest work
When Matt Healy asks this titular question in his unorthodox, Siri-narrated, societal fever dream titled "The Man Who Married a Robot", it's tempting to say yes.  For he, as frontman of British rock band The 1975, is blessed with fan girls and internet stan culture, with bombardments of love and support on Twitter and Instagram, with sold out concerts and universal critical praise.
And yet, just a year previous, Healy was boxed up in a seven-week rehab therapy, gripped with a heroin addiction.  This comes free of him in single "It's Not Living (If It's Not With You".  In an interview with Pitchfork, Healy discusses his reluctance to talk about the addiction, as not to romanticize it.  The song is nonetheless powerful: "All I do is sit and think about you / If I knew what you'd do / Collapse my veins wearing beautiful shoes".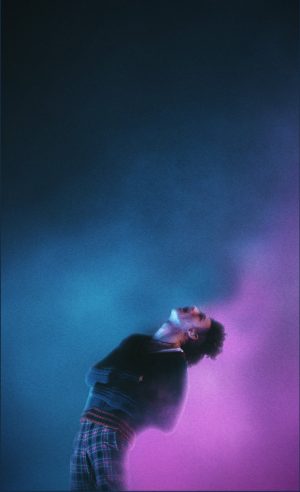 This is just the beginning of what The 1975 scratches in their third album A Brief Inquiry Into Online Relationships.  It's clear from the start the kind of ambition the band is undertaking, almost as if it is too much of a good thing, a pandemonium of resources.  Yet, everything feels like it has a purpose, like it has a place in our modern world.
After beginning with a literal jump-scare of an intro, the band reaches out to the fans directly with the head banging rock anthem "Give Yourself a Try", repeating this mantra over and over, nearly begging the listener to keep going.  He follows this up with a radio friendly "bop" about infidelity and a baroque double track featuring synthetic breaks and drops, as if the record has left the turn table and shattered into millions of pieces.  This wild song once again reaches to the viewers, urging us to not "let the internet ruin your time…what they can't take is you telling them lies".
The clear stand out on the album is "Love It If We Made It", which I feel is one of the most powerful musical representation of modern times.  In less than five minutes, The 1975 manage to reference racism, refugees, Lil Peep, fossil fueling, kneeling during the National Anthem, Donald Trump, the wealthy, and Kanye West, while also continuing the motif of repetition to the audience.  "Truth is only hearsay / We're just left to decay / Modernity has failed us / and I'd love it if we made it".
The societal shots don't stop there, with a shout out to Sound Cloud rappers aptly called "I Love America and America Loves Me".  As Matt Healy bellows "I'm scared of dying / No gun required…Kids don't want rifles / They want Supreme", he references our generation once more, drawing us away from violence towards the numbing consumer culture.  "Being young in the city / Believe in saying something".
As the album continues, it's clear that Matt Healy is pulling you in and making you feel.  An obsessive compulsive love ballad with a bit of abuse, an out-of-place swaying jazz jam about admiration, and an instant-classic album closer about always wanting to die (sometimes).
It's almost tempting to ask Healy to cool off on the "too real" topics, but I disagree.  The 1975 is calling out to you, begging for your attention.  If you want mindless entertainment, turn on your Top 40 playlist.  But if you're willing to think, to feel, and to enter this glorious, timely masterpiece, just be ready to be emotionally and creatively drained, yet nonetheless inspired.