Getting to know Father Michael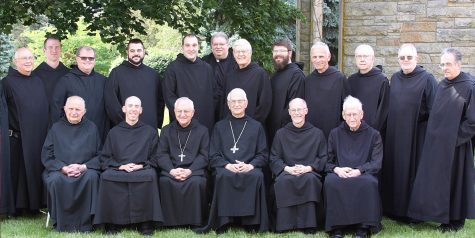 One of the things that makes Marmion Academy unique compared to other private school is that we have an Abbey on our campus. The daily presence of the monks in the classroom was, and is, part of what makes Marmion Academy who we are. The most important job of the Monks is to pray, but that isn't their only job.  They also run schools. Monks started teaching in the 6th century. It's tradition. Prayer is the most important task they have. In fact, they pray together 6 times a day. Some Monks happen to work at our school. The Monks also work at the Abbey Farms, and they run Parishes. Additionally the Marmion Abbey also own a Church in Guatemala. In Guatemala there  are 4  monks that oversee the church. There use to be a school there but it was closed recently due to low enrollment and other complications. 
Father Michael  graduated from Marmion in 1970. graduate. He was ordained a priest in 1980 and began working in the Academy that same year.   Over his time at Marmion, he has held many positions. From Dormitory Prefect, Head Librarian and Instructor in Theology to his current role as Student Chaplain.  He has been blessed to know many of the students that have come through Marmion and he stays in contact with many of them. He even often presides at their weddings and baptisms of their children.  
As Abbey liaison, Father Michael is the monk who connects the two groups: monks and the school.  He's on every committee so they he can share the monk viewpoint or the school viewpoint. Additionally,  he is the student chaplain, which means he holds daily mass for the students during mass activities and he plans and organizes the All-School Masses.  Another way in which he helps is the school is he teaches sophomore theology. Perhaps his most important achievement is being on the Kairos team. Fr. Michael has been on every one of the more than seventy Marmion Kairos retreats since they began in 1996.  He has no special jobs at the Abbey; however, he has to take turns doing the chores and the day-to-day duties.  If you are looking for a monk that truly understands the the daily life of a student here at Marmion, please consider meeting with Father Michael. 
Each month we will try to highlight one of the members of the Marmion Community. Please check back next month to learn about a different monk.