2017 Golf Season Review
Head Coach: Mr. Russ Huggins
Record:
– 3-2 in Dual matches.
– In trimatches: 1-first place finish , 2-second place finishes
Captain: Jimmy Morton
Seniors: Sam Baranick, Jimmy Morton, Fred Shoaff
Main Contributors: Jimmy Morton (won Bloomington invite with a 2 under 70, All-Conference), Peter Thayer All-Conference), Austen Velazquez, Jack and Will Barnhart, Christian Damico, Cole Rainforth, Dominic Czerwinski
Notable Results: 
– Won Regionals
– 4th in the Conference
– Won ACS Invitational
– 2nd in Bloomington HS Invite
– 2nd in Geneva Invite
– 2nd Aurora City Tournament
– 2nd ACC Invite
– Sectionals: finished 11th, did not advance
Season Summary:
Heading into the season captain Jimmy Morton had high hopes for the year coming off a second place state finish in 2A. The challenge would prove to be tougher this year as Marmion was bumped up to 3A.
"I thought that our team could make State, but I knew that we had to improve as a team over the course of the season." Jimmy set goals at the start of the season to see overall improvement from the beginning of the year to the end. He believes the team did just that. "Given that our best score of the season came at Conference, I think we achieved that goal."
The team rallied around one another and created a "very competitive environment." To earn playing spots, teammates had to play against each other in practice rounds and earn the right to play for Coach Huggins in tournaments. The whole team wanted it.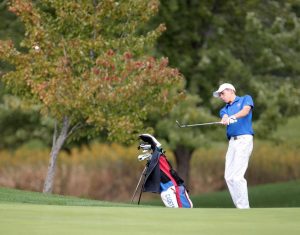 Jimmy saw great cohesion as each member rallied under the same vision.
"The season was a time when everyone came together with one common goal of going to State. The journey came with a lot of emotions."
The team will retain several members including the talents of Peter Thayer and Austen Velazquez. They will be leading the team next year armed with the lessons learned from this season's environment.
Despite graduating, Jimmy is looking forward to an improved golf team.
"With so many juniors this year, there will be a wealth of experience on the team next year. All of them have an incredible work ethic and a drive to win." He already believes the team he led will thrive and "wouldn't be surprised" to see them make state at the 3A level.