Mr. Marmion 2018 Promo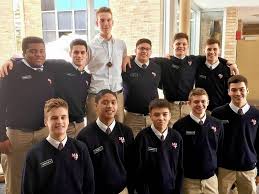 Mr. Marmion is back and just as average!
This year's Mr. Marmion contestants are: Seniors Louie Auriemma, Austin Flanagan and Jack Kirtley. Juniors Christian Henkel, Isaias Ponpa and Ben Saloga; Sophomores William Dietz, Ben Okolita and Joshua Pura; and Freshmen Ryan Fitzgerald, and Zachary Hoschouer.
The event is on March 9th at 7:00 and all of the proceeds raised from this event will be donated to benefit cancer research programs through St. Baldrick's Foundation and the Illinois Leukemia & Lymphoma Society.
Come support a great cause!